It all started with a seedling of inspiration – scratch that, more like 25,000 seedlings of inspiration.
This fall, Canada's second-largest integrated oil company, Imperial, teamed up with Forests Ontario to plant 25,000 trees in southern Ontario. It wasn't long after combining brainpower with Brookline that the multifaceted, #SproutingImpact, campaign was born.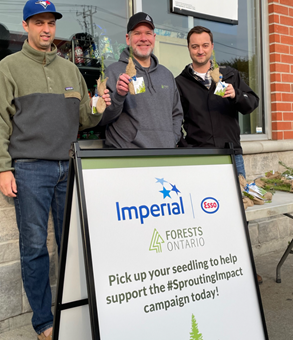 Implementing both digital and in-person tactics, Brookline developed and executed a campaign to amplify Imperial's donation and support for land conservation. Here, Brookline was responsible for a fully integrated communications campaign that included influencer management, a social media launch strategy and content calendar, graphic design, vendor relations, coordinating media and influencer communications, event logistics and on-site support for activations in Sarnia and Toronto.
Coincidentally, #NationalTreeDay was on the horizon and thus began Brookline's strategy to garner excitement for Imperial's upcoming campaign. With an emphasis on engaging consumers, Brookline coordinated the creation of a teaser video to be shared across all social channels on #NationalTreeDay. Imperial, its consumer brands, Esso and Mobil, Forests Ontario and influencers all shared the teaser video as a sneak peek of the campaign to come.
A short plane ride later, Brookline set foot onto Ontario soil to offer support for the gas station activations. From packing seedling boxes to preparing signage, Brookline was buzzing around the GTA to ensure all logistics were set ahead of activation day.
Soon, Ontarians, influencers and media alike were all engaged with #SproutingImpact thanks to the gifted seedlings received in the mail or at select Esso and Mobil activations. Brookline's very own VP, Leanna Kruk was joined by Ontario influencer, Joseph Tito, who helped to hand out 100 seedlings paired with fuel discount cards as a thank you for #SproutingImpact.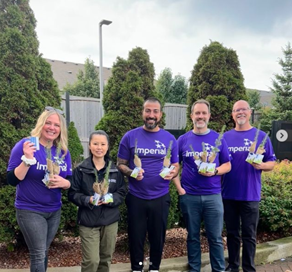 The campaign didn't end there! Brookline also coordinated seedlings for a #SproutingImpact information session at Northern Collegiate school in Sarnia. Here, Imperial and Forests Ontario educated students about the importance of caring for the seedlings and tree planting in their communities.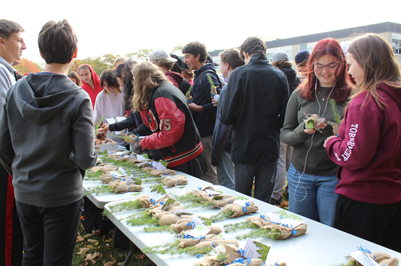 Brookline's social media strategy and content created for #SproutingImpact garnered nearly 500,000 impressions across Facebook, Instagram, LinkedIn and Twitter. Concluding the campaign was another Brookline-coordinated video to wrap up the ways Imperial sprouted impact across southern Ontario.
Campaigns with a cause always leave us feeling grateful, and Imperial's #SproutingImpact campaign is no exception. From flexing our creativity to stretching our wings, Brookline is eager for its next seed of inspiration!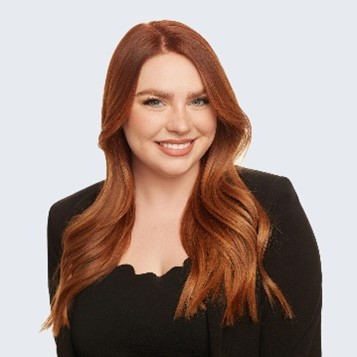 Mackenzie Murphy is a PR assistant at Brookline Public Relations. As a recent graduate, Mackenzie brings her passion for learning and skillful storytelling to every project presented to her.