Erica Morgan, Account Specialist
For the third consecutive year, Brookline Public Relations had the opportunity to partner with the Alberta Securities Commission (ASC) to execute a comprehensive PR campaign focused on investor education. In order to increase awareness for the ASC and the important work it does to help Albertans protect themselves from investment fraud, Brookline coordinated public engagement opportunities for the ASC through Home and Garden Shows in key markets, including Calgary, Edmonton and Lethbridge.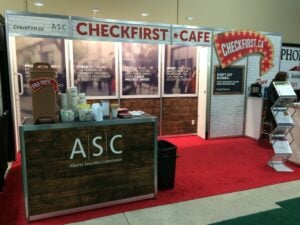 This was paired with strategic social media tactics and a targeted digital advertising campaign which ran throughout March, which is Fraud Prevention Month.
Brookline also provided media relations and event management support for a public activation in which the ASC took over a local Edmonton coffee shop, rebranding it as the CheckFirst Café to take a grassroots approach in reminding Albertans to 'check first' before making investment decisions. The decked out coffee shop offered Edmontonians free coffee and advice and featured the Heebee Jeebees as singing baristas who delighted customers with a coffee-themed custom jingle written just for the ASC. Fraudaccinos, Lost Dream Lattes and Scammer Scones in hand, more than 500 Edmonton residents left the CheckFirst Café both caffeinated and informed.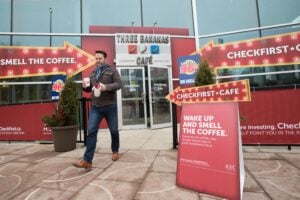 The campaign microsite, www.checkfirst.ca, which was implemented when Brookline first partnered with the ASC three years ago, continues to act as pillar for the ASC's investor education outreach and a central hub of information for Albertans looking to educate themselves about avoiding investment fraud.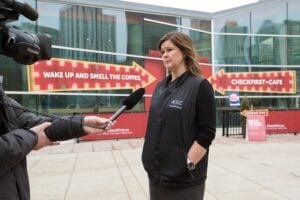 The ASC also issued an Alberta-wide press release coinciding with Fraud Prevention Month to spread the word to Albertans about protecting themselves from fraud. The campaign resulted in a notable increase in public engagement with, and understanding of, the ASC, as well as outstanding ongoing media coverage from a wide variety of print, broadcast and online outlets province-wide.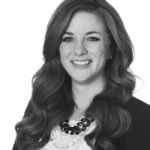 – Erica Morgan is an Account Specialist at Brookline Public Relations. She brings experience in the areas of event management, social media strategy and media relations.