Sophie Pilon, Account Supervisor
This past week, I celebrated my 6-year anniversary at Brookline! Booyah! One of my colleagues asked me what my highlight was over the years. Maybe it was the overwhelming shower of love from my colleagues or maybe I was distracted by the cake adorning my giant face in front of me, but I couldn't come up with a highlight. Seriously, how does one summarize six years in one highlight? Now that the fog has lifted, I've had some time to think about it. What is keeping me motivated and passionate about Brookline?
The reason is simple; the projects I have had the opportunity to work on are second to none. I have met so many interesting people; I have grown so much professionally and personally; I have learned so much and continue to learn; I get pushed out of my comfort zone daily and most importantly I work with a group of vivacious, fierce and badass women every day.
To illustrate why I've clearly drank the Brookline Kool-Aid, I've decided to put a list together of some of the projects that have made a great impact on my career:
One of Brookline's largest projects is managing the public relations for Edmonton's ICE District. Throughout the years, I've had the opportunity to work on so many interesting projects but one that sticks out is certainly helping with media relations for the opening of Roger's Place.
I've lost count the number of times I have worn construction gear. I have an irrational fear of elevators and several of our projects with ICE District have been in buildings under construction where you have to take a hoist – translation: tuna can on the side of a building. If you are unaware of what a hoist is, it is essentially a cage used for lifting or lowering a load by means of a drum or lift-wheel around which rope or a chain wraps, which means they scare me. Yet facing my fears is something I take great pride in, so yes… having to use hoists are a highlight for me.
Have you ever ridden a golf cart on an airport runway? I have! Brookline worked with the Calgary Airport Authority to help open the longest runway in Canada. The two-day event included an 8 km run event, managing up to 7000 visitors and coordinating the landing of more than 40 planes.
The Calgary Stampede season is always busy for us with events. One year, my colleague and I had the pleasure of coordinating interviews and managing THE Jack Daniel's Master Distiller, Jeff Arnett.
One time, Paul Brandt serenaded me and 70 of my closest friends at a Canada Beef rebrand event. NBD!
Since I'm speaking of Paul Brandt, I also witnessed a marriage proposal at one if his UFA Small Town Heroes Appreciation concert in Ponoka, Alberta. Paul Brandt was made aware of the declaration and called the couple to the stage to sing them his infamous song – "I Do".
I've had the pleasure of leading one of Brookline's biggest client, Ford and travelled across Southern Alberta to visit with dealers, launched different vehicles and supported important issues such as impaired driving.
I've had the chance to work with several celebrity chefs to launch different ventures, including Chef Roger Mooking for the opening of Social Eatery by Roger Mooking at TELUS Spark.
I've also met Yvan Cournoyer at a Gordie Howe PRO AM Hockey Tournament event and number 99, Wayne Gretzky, at an Edmonton ICE District event. Do I need to say more?
Last but not least, I've created great friendships and bonds with my colleagues, but I have also created amazing ties with clients, media and partners these past six years.
I've said this before and I'll say it again, agency life is demanding and requires perseverance, adaptability and passion, and I'm proud to embody those qualities and inspire the team to live by those words as well.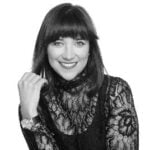 As part of the senior team, Sophie's strategic thinking and calculated public relations insight have helped effectively guide large brands to reach their goals and objectives. Sophie's strengths lie in creating innovative and tailored strategic communications and media relations plans tailored for each client and their needs. Her creativity, coupled with a wealth of experience in sports, lifestyle, corporate, not-for-profit industries, has led to exceptional results and brand-elevating coverage.