Amanda Kemsley, Account Executive
At Brookline, our aim is to always provide our clients with the best service by continually going above (literally) and beyond for every project. On May 8th, we took to new heights with the topping off of Edmonton's newest luxury hotel JW Marriott Edmonton ICE District and The Legends Private Residences. In the construction world, the topping off of the structural portion of a building is a major milestone. So, in Brookline style, we had to celebrate.
For the event, ICE District treated media and VIP's to the 46th floor of the tower, the highest vantage point the public has been in the city to date.  Here, the media got an exclusive look of the tower and panoramic views of Edmonton's ever-changing landscape. Once complete, the JW Marriott Edmonton ICE District and The Legends Private Residences will stand 56 storeys high – the first 22 storeys as hotel space and The Legends Private Residences above the hotel.

Promising approachable luxury, the hotel will feature 356 rooms of elegant accommodations, luxury spa offerings and Edmonton's largest ballroom at 10,500 sq. ft. The Legends Private Residences will be the ultimate in luxury living, with sophisticated and functional condominium homes with panoramic city views.
Speaking to the luxury theme, the topping off celebration included a short formal program with words from Edmonton's Mayor Don Iveson, Martin Stitt from Marriott Hotels Canada and Glen Scott from Katz Group Real Estate, concluding with a 'topping off' of a cake replica of the tower. The event also included ICE District partners, government officials and executives from ONE Properties, JW Marriott, Oilers Entertainment Group, as well as Edmonton media.

JW Marriott Edmonton ICE District is slated to open in Q1 of 2019 and we can't wait to experience all the state-of-the-art offerings. The Legends Private Residences is set to open from Q2 to Q4 of 2019. If you're looking to be a homeowner, hurry because it is already over 90 per cent sold!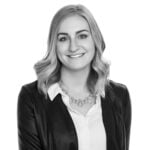 Amanda is an Account Executive at Brookline Public Relations. She has an insatiable appetite for exploring – ironically since she doesn't like getting lost. She flourishes on bringing broad-minded, creative ideas to the table and trying things outside of the norm.