Kirstin Lindquist, Graphic Design Intern
Brookline recently turned 15 and as an important milestone, this occasion was cause for celebration. With a dash of glam, we completely transformed Bridgette Bar and in Brookline fashion, no detail was spared!
Our #BrooklineXV party was not only a way to celebrate 15 years of incredible achievements, but truly a way to say thank you to our past and current clients, partners, media, influencers and friends! From a surprise performance by country super star Paul Brandt to laughs shared over cocktails, it was a night to remember.
Without taking the magic away, we want to give you a behind the scenes look at how it all came together and how we "brought our sparkle" to the special evening.
Here's to the next 15 years!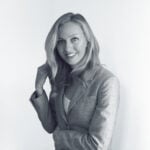 Kirstin strives to ensure that companies are not only being noticed but also remembered. As a graphic designer she values the fusion of form and function to communicate brand values, establish growth and differentiate clients from their competition.