Shelby Wong, Account Executive
As we emerge from a year that undoubtedly changed every facet of our lives, PR professionals and brands alike have been adjusting to the way we connect with our audiences. Influencer relations has always been a valuable strategy, but what does the landscape look like as we head into 2021?
I connected with Aliya of the distinguished blog and Instagram account @StylebyAliya to discuss the forward outlook of the influencer industry. From tips on maintaining beneficial relationships with PR firms to how her content has adapted to her audience's evolving needs, Aliya shares plenty of insights from her unique perspective as an influencer.
Q: Influencers and PR firms go hand in hand. What are some best practices when it comes to maintaining a good relationship with one another?
A: From my perspective, it's being open, honest and genuine with a PR firm. If a partnership doesn't feel right, I don't go for it. I believe it's better to be honest to your brand and to the PR firm as it will reflect in the work and to your audience. When it comes to maintaining a good relationship with one another, it's like anything else. You have to work to build and sustain those relationships. A practical tip I have to offer is sticking to your deadlines, which is crucial in demonstrating reliability and professionalism.
Q: How can PR firms best engage and co-create with you as an influencer?
A: It's a balance between the PR firm providing guidelines and the influencer having creative control. I think it works well when proper brand expectations are communicated from the start. From there, it's up to the influencer to decide whether they want to work with the brand and PR firm. It pays off when a PR firm or brand has done their research prior to their outreach and determined that it's an appropriate partnership.
It takes a lot of time to create good content, so I prefer to have a thorough discussion beforehand to avoid being caught offside. For PR firms and brands, it's about having some flexibility so that the influencer can create authentic and quality content while also providing a scope of work to ensure brand alignment.
Q: How has 2020 changed the influencer landscape? How have you had to adjust?
A: Consumer needs changed drastically, including the type of content they were interested in. The emergence of the TikTok platform was huge. I know a lot of people initially had doubts but with COVID it really took off, resulting in influencers feeling like they needed to learn a new platform and present ourselves differently. I think that new platforms are always worth checking out, but influencers shouldn't feel like they need to be on all of them if it doesn't resonate with their brand. Although TikTok isn't necessarily the platform for me, I did sign up for an account to secure my brand name on the platform in case it did take off and make sense for me one day. Whether you intend to participate on a platform or not, this is so important for an influencer to do because your name is a part of your brand. Clubhouse was also a platform that gained a lot of popularity in the past year, which I think is an innovative way to share content.
I've adjusted my content to reflect the increased demand for home décor and fitness content. With the world spending more time at home, that's what consumers want to see now. Adapting to changes in the algorithm was also a challenge, but much of that is out of my control. I would ask PR firms and brands to recognize the uncertainty of it all, and that it takes time to evaluate the changes and re-strategize collaboratively to optimize results.
Q: Consumers put a lot of trust in influencers when it comes to their purchase decisions. How do you maintain trustworthiness with your followers?
I only promote what I've tried and truly believe in. I know a lot of people will say that, but I recently turned down a collaboration because it wasn't the right fit for me. I think consumers are aware when something doesn't fit with an influencers profile. Building and maintaining consumer trust is key.
Q: Some would argue only certain brands make sense to work with influencers. What are your thoughts on this? Is there a space for all brands to participate with influencer marketing?
I think there is room for all brands. I think we've all purchased something after we've seen it on social media, so there is definitely potential for great exposure and returns for any brand, but again there has to be alignment with the brand and the influencer for the content to be authentic and stand out.
Q: Where do you think influencer relations will be in 2-3 years? Will it be less or more prevalent?
A: I think with the way the world is right now, influencer marketing will continue to be prevalent but the platform may change. Like I previously mentioned, I don't think it hurts to check out new platforms, but at the same time some platforms aren't everyone's cup of tea. It's not important to be on all of them if it doesn't feel realistic. I think influencers have to stick to what's comfortable for them and not get caught up in feeling like they have to be present everywhere. Ultimately, it's about catering to what your audience wants and what makes sense for the content you create.
As you continue to leverage influencer relations into 2021 and beyond, remember that while many things have changed, some things will remain the same: authenticity is non-negotiable, continuously adjust your strategy to audiences' needs and ensure brand alignment through a rigorous vetting process. When it comes to staying ahead of the curve, pay attention to the evolving landscape and remain flexible – the rest will follow!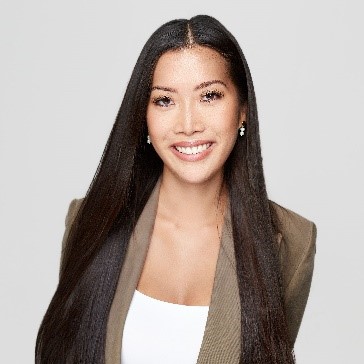 Shelby Wong is an Account Executive at Brookline Public Relations. A crafty wordsmith with an eye for design, she is a strategic thinker with a passion for helping others find their authentic voice.