From crypto to online investing, many new and experienced investors in Alberta are taking their dollars digital. despite seemingly tech-intuitive, in recent years Albertans under 35 have increasingly fallen victim to fraud online. As part of Brookline's ongoing work with the Alberta Securities Commission (ASC), the agency developed and executed a campaign to help educate Albertans about investing online, putting the focus on our increasingly digital world.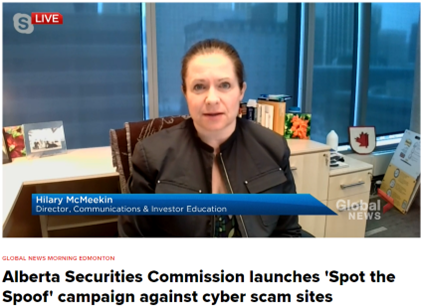 Brookline worked with the ASC to create SpottheSpoof.ca to raise awareness of spoofed and cloned websites imitating legitimate registered investment firms. The interactive website highlights the tell-tale signs of fraud in an easy-to-navigate, educational manner. Albertans can safely explore the red flags of fraud and learn how to check the legitimacy of investment firms found online.
Brookline was also tasked with creating awareness for the ASC's new Cryptocurrency Guide. The increasing popularity of crypto assets have piqued the interest of many investors in Alberta. While it can be exciting to invest, taking the time to learn about crypto assets can help you determine if they are suitable investments while also avoiding common scams!
To generate awareness for the new website and guide as part of the ASC's suite of free tools, Brookline executed a media and awareness strategy. Media relations included targeted outreach across Alberta to secure story placements and interviews. From rural towns to major cities, Brookline pitched the important news far and wide across the province. Brookline also engaged Alberta-based influencers with a financial focus to promote the campaign to their millennial-aged audiences.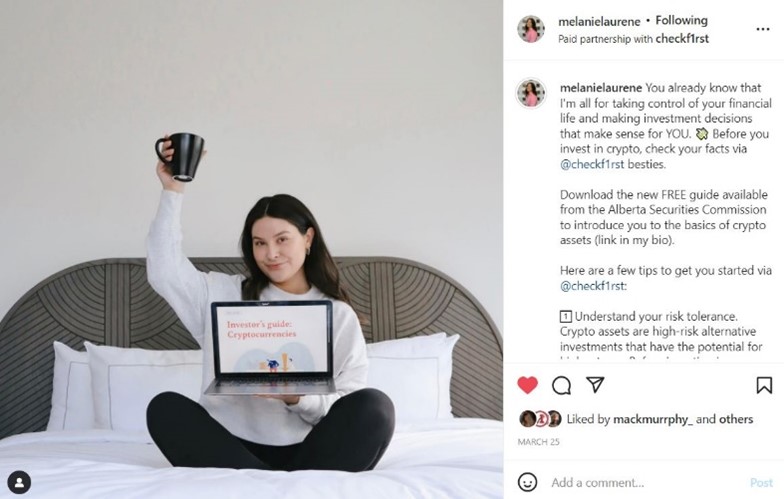 Brookline secured interview opportunities for the ASC's key spokesperson with top tier outlets including CTV News and Global News in both Calgary and Edmonton, as well as 770 CHQR. A total of 29 pieces of coverage were captured, totaling over 2.4 million media impressions and 19k social media impressions. The influencer campaign also generated great feedback as followers put their financial literacy to the test! Need to brush up on your financial literacy? Visit CheckFirst.ca to learn more.
Kelsey is a Senior Account Manager at Brookline Public Relations. A self-proclaimed "team player," she excels at collaborating with colleagues and clients to deliver impactful PR programs that achieve exceptional results