Jas Badesha, Account Coordinator
This year is all about being different, even in our blogs! Check out Jas Badesha's take on #BPRDifferent! Take it away, Jas!
#BPRDifferent
Check, check, 1-2, 1-2.
This is what we're going to do.
Is it a poem, is it a rap?
Well, that's up to you.
Point is, it's not your average blog,
Nor your regular kind of song;
But, that's what Brookline's all about.
We'll never leave you in doubt.
Check it.
We're not your average agency.
There are so many traits, and that's key.
With our 2019 theme, you'll see.
We're D-I-F-F-E-R-E-N-T.
How?
We think outside the box –
Ideas that'll blow your socks.
No two days are the same,
Wouldn't want it any other way.
Our clients are always top of mind.
An experience unlike any other kind.
Going the extra mile?
Now, that's our style!
'Cuz we're DIFFERENT.
Fresh approach to your communications needs.
Strategic PR service that leads,
And achieves
Your business objectives and goals –
Even messages for social media trolls
Professional, creative, solid and fresh –
State of our minds in a brainstorming sesh;
Also key pillars that Brookline lives by,
For award-winning campaigns – so fly!
We communicate compelling stories that are relevant and credible.
We'll enhance your profile and deliver results so incredible.
'Cuz we take it to the next level.
We work hard.
We play hard.
Surprise and delights as an example,
For Brookliners and clients to sample.
But, don't get it twisted.
Be sure you don't miss it.
We're not fluffy or weak.
We have strong advice you seek.
Shout out to our hardworking team.
We're exactly what we seem.
Empowering, unique women with ambition and class,
Who develop and execute plans that are badass!
Smart, passionate and authentic,
We bring you strategies that just click.
Tactics that are methodical, yet fresh – we're trailblazers!
In a crisis? We'll provide strong key messages.
Creative, fearless and driven –
Yeah, it's a given.
We're different.
That's exactly who we are.
We're Brookline PR.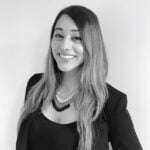 Jas Badesha is an Account Coordinator at Brookline Public Relations. As a novice in rhyming, you won't catch Jas in a rap battle anytime soon. Expressing creativity and thinking outside the box? Now, that's her jam. #BPRDifferent.