Ottilie Coldbeck, Public Relations Assistant
Evolving from an up-and-coming woman in tech to a dynamic, hands-on leader, Patricia Kaiser has proven she is a force to be reckoned with.
In recognition of International Women's Day, Patricia sits down with Brookline's Principal and Founder, Shauna MacDonald, to discuss her experience as a business leader and a working mother, answering the question: can you really have it all? Reflecting on her career, Patricia gets candid about the glass ceiling, her role at the board table and just how she became comfortable being uncomfortable, ultimately pushing herself to achieve more and go further.
As one of Brookline's first clients, Patricia and Shauna discuss their professional and personal history and what it truly means to make a difference for working women.
The Beyond PR podcast brings open, honest and sometimes never-before-heard stories from notable leaders each month. Subscribe to Beyond PR on Anchor, Spotify, Apple Podcasts or Google Podcasts to catch the season one finale in April 2020.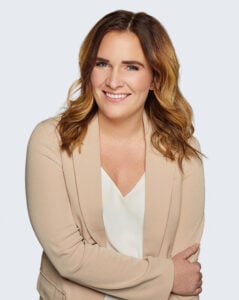 Ottilie Coldbeck is a Public Relations Assistant at Brookline Public Relations. As a self-proclaimed adventure seeker, Ottilie challenges herself to remain outside her comfort zone in all aspects of her life. Ottilie has a passion for story-telling – helping brands communicate their messages in an authentic manner.