In honour of Child Abuse Prevention Month, Beyond PR sits down with Sara Austin, Founder & CEO of Children First Canada this October. Sara is the youngest recipient of Canada's Top 100 Most Powerful Women and has dedicated her life to advocating for millions of children across the globe. Sara shares insights into her journey leading highly successful advocacy, public awareness and philanthropic campaigns, and tells Shauna how her international experiences brought her back to Canada to continue the fight for children in her home country. Sara also discusses Children First Canada's "Raising Canada" campaign, which advocates for urgent action on children's issues ahead of the 2019 federal election. To learn more about Children First Canada and Child Abuse Prevention Month, visit www.childrenfirstcanada.com

The Beyond PR podcast will bring open, honest and sometimes never-before-heard stories from notable leaders each month. Subscribe to Beyond PR on Anchor, Spotify, Apple Podcasts or Google Podcasts to catch episode six in November 2019.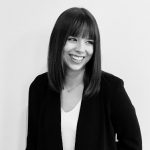 Jenna Hamilton is an Account Coordinator at Brookline Public Relations. Her passion lies within the realms of event planning, strategic communications and media relations.