Shae Pollock, Senior Intern
In January, it was announced that Edmonton's ICE District will be the future home and first Alberta location for global hotel brand JW Marriott. Set in the heart of Edmonton's downtown core, JW Marriott Edmonton will provide guests with luxurious hotel rooms, exclusive amenities and unsurpassed customer service.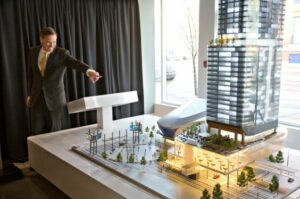 Brookline was honoured to support ICE District in executing and coordination one of Edmonton's most significant hotel developments in over three decades. To maintain the exclusivity behind the announcement and generate excitement, limited details were released to media invitees. On January 13, guests gathered at ICE Headquarters where they were met with the sophistication, style and elegance reflective of JW Marriott's iconic brand.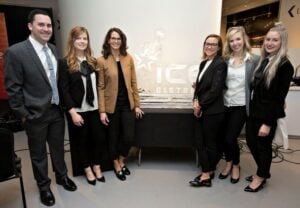 JW Marriott Edmonton will feature 356 rooms and suites, more than 25,000 square feet of state-of-the-art meeting and conference space and one of the city's largest ballrooms at over 10,000 square feet. The hotel will also feature Spa by JW, a luxurious spa offering an array of treatment options, and a restaurant operated by one of Canada's premier restauranteurs.
Coordination of the exclusive announcement saw Brookline in charge of event logistics and execution, from managing show flow to organizing catering and even securing a key-shaped ice sculpture. With prominent media, ICE District partners and Marriott Hotel executives in attendance, Glen Scott, Senior Vice President, Real Estate for Katz Group, officially welcomed JW Marriott to ICE District's family.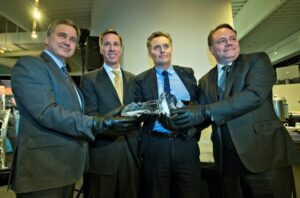 The announcement garnered significant media attention from notable local, provincial and national outlets, including the Edmonton Journal, Business in Edmonton, CBC, Global, CTV and well-known hospitality publications. More than 44 media hits were received, in addition to an editorial impression of over five million.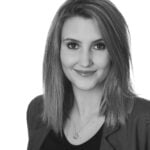 -Shae Pollock is a senior intern at Brookline Public Relations. With two agency internships under her belt, Shae brings experience in the areas of event management, media relations and social media. She recently completed her Bachelor of Communications degree from Mount Royal University.