Rachel Piers, Guest Blogger
I have to say, being a student visitor at Brookline PR for the day definitely lived up to my expectations (which, to be honest, were pretty high to begin with). As the winner of the "Day in the Life" social media contest held during Brookline's student open house, I was graciously hosted at their office to learn all about agency life. I have admired the work and culture that Brookline brings to the world of public relations for quite some time, so this opportunity was pretty exciting to say the least.
When I arrived I was warmly welcomed before settling in to one of their conference rooms. Before I go any further, I have to add that the office space there is downright gorgeous; it's got a real downtown industrial chic feel to it (being an interior décor buff myself, this is something I noticed right away). Continuing on, I then had the unique opportunity to have one-on-one conversations with a few different staff members, one of which was principal and founder Shauna MacDonald herself. It was such a pleasure to chat with people who have the career that I dream to one day have myself. They had a lot of helpful hints on what to expect from the job and how to set yourself apart as a PR professional.
My favourite part of the day came next: sitting in on Brookline's weekly staff meeting during which the team collaborates and shares on what is happening in the agency that week. As a first-year public relations student, this really was invaluable to observe. I observed strategic decisions being made, learned about the execution of carefully thought out communications plans, and most importantly I got to see just how collaborative the Brookline team really is, with each member contributing their strengths to deliver the best results.
To finish the experience off, I had a lovely lunch with three other staff members, which was yet another opportunity to glean knowledge from and share some laughs with a few PR experts.
All in all, it was a great experience with great people at a great company. Thank you so much Brookline for donating this time to me and for investing your efforts into my continuing education as a public relations professional!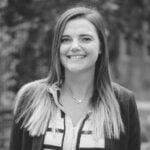 – Rachel Piers is a first-year Public Relations student at Mount Royal University