Amanda Kemsley, Account Specialist
In your first week at a new job, it's easy to be concerned with making a good first impression. It's also just as important to have your own first impressions of your new workplace. Luckily for me, I had a positive beginning. Having met my new coworkers over dinner before I formally started, I was given a unique opportunity to get to know everyone in a more relaxed setting and learn about them on both a personal and professional level.
Right from the start, I noticed what a welcoming team Brookline had. From wine preferences to management styles, I felt like this was going to be a great fit.
Fast forward to my first official day in the office and for once I wasn't a ball of nerves. Starting a new job can be intimidating, especially with so many new people to meet. But, since I already had that scratched off my list, I could go in to an office with familiar faces and be one step ahead to ease into my new role. If I had any residual nerves, those quickly vanished when I was set up with a mentor to help me navigate my way around Brookline. This is a nice addition to a newcomer in any new work environment (it's comforting to have that go-to person for a successful transition).
My first week was a bit of a whirlwind (as anyone in PR can understand). With Brookline having such an extensive roster of clients, there was a lot of information to download. Herein lies my first "Traffic" meeting. Informative, refreshing and creative would be how I would describe this meeting. It's a great concept for getting together weekly to regroup on current and potential clients and office activities. If your office does not have a version of Traffic, I highly suggest it. You'd be surprised at how beneficial it is to "be in the know" of what is happening around the office, even if it is a project you are not involved in. It's helpful for me in prioritizing my time as well as understanding my coworkers' time commitments.
If you are still reading and haven't left to go incorporate your own Traffic, I'd like to share my favourite part of the job so far – aside from an all-star team. Clients. Multiple clients. Diverse clients. Award-winning clients. The exciting opportunity to expand my experience in several new industries and take on multiple clients at once. This is what makes agency so interesting to me, it's never static. It keeps me on my toes and I look forward to dipping said toes in the water of a strong line-up of clients.
While I can't share all of Brookline's secrets, I can leave you with a few candid thoughts that occurred during my first week, which will provide further insight into my honest first impressions:
"This is the most beautiful office space I have ever seen."
"How does Brookline service so many clients?"
"No seriously, this office space, though."
"Unofficial motto: work hard, play hard."
"This team has so much passion for their work."
"The chocolates in the boardroom are going to go straight to my hips."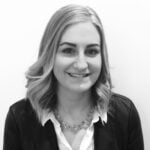 -Amanda is an Account Specialist at Brookline Public Relations. She has an insatiable appetite for exploring – ironically since she doesn't like getting lost. She flourishes on bringing broad-minded, creative ideas to the table and trying things outside of the norm.