For many public relations students and aspiring PR professionals, internships are an inevitable rite of passage. It makes sense: internships are, without a doubt, a great way to apply existing skills while learning new ones in a professional environment. However, many are unsure of what to expect before actually taking the internship plunge.
Although it's a fun and exciting experience, committing to an internship can also be a bit nerve wracking. As interns ourselves, it's a feeling we're both familiar with – but since the beginning of our internships at Brookline, we have had countless opportunities to learn and grow in ways we might never have had the chance to had we not joined the Brookline team. Though we're not necessarily experts, we'd love to share some of our knowledge and experiences with other students and professionals-to-be who may be eyeing up an internship of their own.
How do I get an internship?
The first thing you need to do is look. While there are resources that will help you find the opportunities that are out there, it's up to you to take the steps to find them. For those of you in school, take a look at your career services resources – there is usually a job board available that will have opportunities easily accessible to you. For those of you without access to post-secondary resources, many organizations have career opportunities listed on their websites and social media platforms. If all else fails, use those networking skills and make some connections!
What's the selection process like? Any tips to rock my interview?
One of the biggest things we've learnt is how important it is to find an organization that is a good fit for you. While experience and a perfectly formatted resume will help you get the interview, your personality, work ethic and attitude are ultimately what will get you the job. Be confident that you are the right person for the job and show your interviewers why that is true.
What's a day in the life of an intern like?
No two days are exactly alike, which is what makes public relations such an exciting industry to be in! Though every day is different, there are some routine tasks that help keep us on track. For example, one of the first things we do each day are news scans to help keep the team up to date with important current events and client mentions. There is never a shortage of things to do and things to learn, whether that means mastering a routine task, or trying a hand at our first press release. At any given time, we have the opportunity to support on multiple client accounts, all of which may require us to execute any number of varying tasks. In our opinion, this dynamic makes working as an intern, especially an agency intern, very interesting and worthwhile.
What are your favourite moments from your internships at Brookline?
Our time at Brookline was such a whirlwind full of excitement and memorable moments. As we feel it's the best way to provide a snapshot of our time here, we've made a list of our top five Brookline memories:
1. Surprise & Delight Culture Club Day – When we moved into our new office space this July, the Brookline Culture Club set up a photo scavenger hunt intended to get everyone acquainted with our new vicinity. We teamed up to visit different landmarks and buildings in the neighbourhood, all the while taking goofy photos, and , finished with a round of delicious ice cream from our neighbour, Village Ice Cream. Definitely one of our favourite team bonding experiences.
2. YYC & Hainan Airlines Welcome its First Inaugural Flight from Beijing – Within our first two months on the job, we had the opportunity to be part of a two-part event, celebrating the first non-stop flight from Beijing to Calgary. We were able to see the planning of a logistically complex event from behind the scenes and support on the planning and execution of the event. It was extremely rewarding to be a part of such an exciting project and see the hard work of our team being put into action.
3. Newbie Pres – To help bring new staff (not just interns) into the fold at Brookline, all "newbies" are given the chance to perform a "Newbie Presentation" to the rest of the team to help show their personality and help break the ice. For our Newbie Pres, we put on a skit which included impressions of all members of the existing Brookline team. Both putting this presentation together and presenting it to the team was so fun – and we can easily say that it was the hardest we've seen a lot of the team laugh.
4. Mattamy Homes Movies-in-the-Park – Throughout the summer, both of us got to work with Mattamy Homes for one of their community events, "Movie-in-the-Park," which took place in Mattamy's Airdrie and Calgary communities. These events were great as we got to see the connection between Mattamy Homes their residents, as well as their dedication to community engagement. We were able to take part in the planning of these events which helped us build relationships with vendors and develop our event execution skill sets. Besides, who doesn't love watching movies in the park?
5. The Team! – Now, we know this isn't necessarily a memory or moment, but the team is really what has made Brookline feel like home. We absolutely love the team at Brookline and getting to know all of their unique personalities has been one of the best parts of our time at the agency. And no matter where our next steps take us, we will always cherish thee memories we made with this group of amazing, kind and talented people.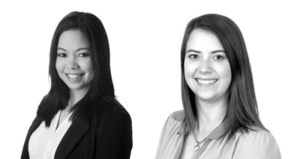 – Justine Cuenco and Sydney Boll are Interns at Brookline Public Relations.